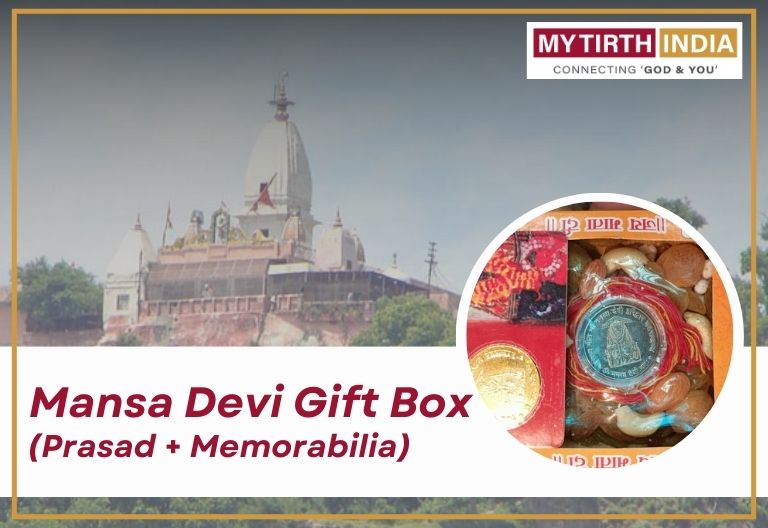 MANSA DEVI TEMPLE
Mansa Devi Temple is a popular religious temple dedicated to the Goddess Mansa Devi located at Bilwa Parvat near Haridwar in Uttarakhand. The Goddess Mansa is believed to be a form of Shakti who emerged from the mind of Lord Shiva. This temple is one of the Panch Tirth or the Five Pilgrimages and is also one of the three Siddh Peeth. The other two being Maya Devi Temple and Chandi Devi Temple located in Haridwar.
This temple offers 360-degree views of the River Ganga and the plains of Haridwar. To reach here, a Ropeway service is available to take devotees and visitors up to the Mansa Devi Temple also known as "Mansa Devi Udankhatola". 
PRASAD BOX INCLUDES
Dry Fruit Prasad
Raksha Dhaga
Sindoor
Mata Mansa Devi Ji ki Chunri
Mata Mansa Devi Ji ki Photo
TERMS & CONDITIONS
Graphical representation of Prasad on the website may sometimes vary from the actual presentation. However, all the inclusions mentioned on the website shall be present. 

The delivery timeline may vary between 7 to 10 working days. 

The delivery will be done by a third-party courier.




Prasad are non-refundable as they are sent after being offered in the Name and Gotra of the client.
MY TIRTH INDIA: We are here to Serve.

Facebook
WhatsApp