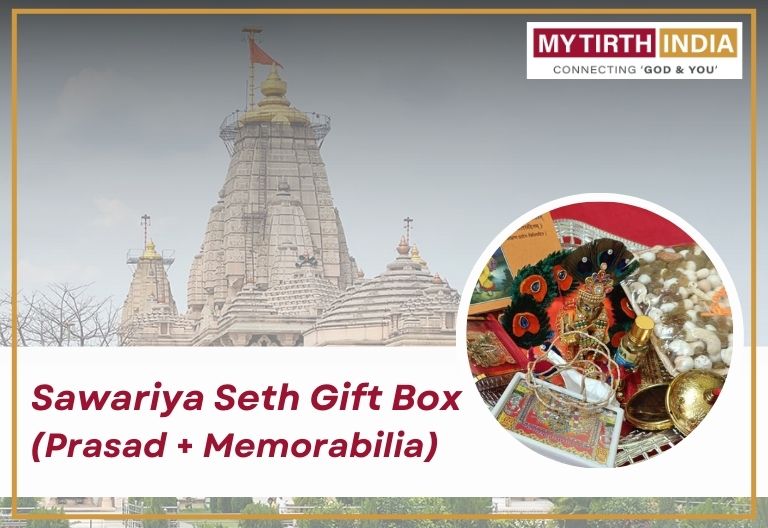 SANWARIYA SETH , RAJASTHAN
The Sanwariya Seth Temple is a popular Hindu temple located in the town of Mandaphia in the Chittorgarh district of Rajasthan, India. The temple is dedicated to Sanwariya Seth, a form of Lord Krishna, and is considered to be one of the most important pilgrimage sites in Rajasthan. Sanwariya Seth ji is also known as Dark Lord Krishna. It is believed that all their desires are fulfilled when they visit Shri Sanwariya Seth's Darbar (Court of Shri Sanwariya Ji). The idol was found under the neem tree and it was believed to be around 5,000 years old. Gaharwar Jat decided to build a temple at the site of the discovery, the temple is very beautiful. A large amount of devotee comes all over the year to visit the temple. There were 3 idols found and all three temples are near about in the area of 5 kilometers. Among these one is worshipped as Sanwariya Seth ji.
PRASAD INCLUSIONS

Laddu Gopal
Panch Mewa
Sanwariya Seth Swaroop
Tulsi Mala
Sanwariya Seth Photo
Itra
Shankh
Jhoomer
Gopal Strot
Sanwariya Seth Ji Ka Aasan
TERMS & CONDITIONS
Graphical representation of Prasad on the website may sometimes vary from the actual presentation. However, all the inclusions mentioned on the website shall be present. 
The delivery timeline may vary between 7 to 10 working days. 
The delivery will be done by a third-party courier.
Prasad are non-refundable as they are sent after being offered in the Name and Gotra of the client.
MY TIRTH INDIA: We are here to Serve
Facebook
WhatsApp