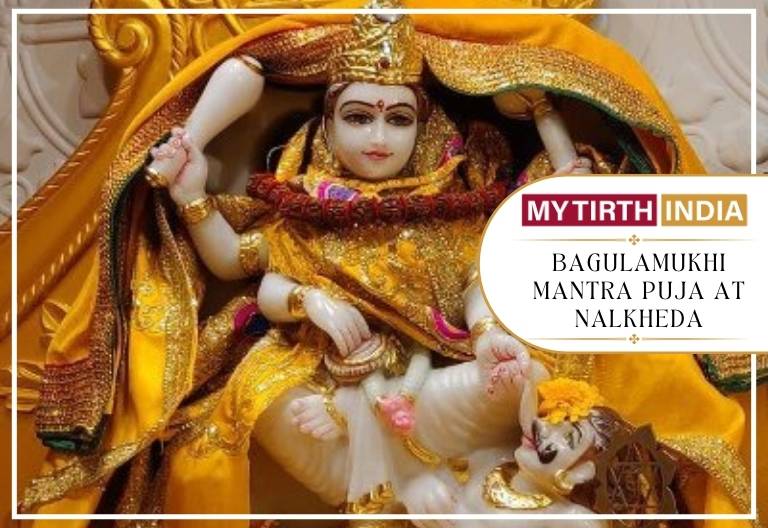 Baglamukhi  Mantra Puja:
Baglamukhi or Bagala is an important deity among the ten Mahavidyas worshipped with great devotion in Hinduism.
Purpose
The ultimate benefit of worshipping Baglamukhi clears the illusions and confusions of the devotees and gives them a clear path to proceed in life. Goddess Baglamukhi carries a cudgel in her hands to smash the troubles faced by her devotees.
Worshipping Ma Baglamukhi is the sure way to control the enemies and win over them. However, with evil intentions, the mantras can only give negative results.
Maa baglamukhi's pujan is performed for eliminating enemies in political and court related matters, for prosperity in trade/business, for money/laxmi inheritance and all other kinds of difficulties. 
for all round protection, prosperity stability and offers protection against diseases, chronic problems and accidents.
Baglamukhi Mantra is specially suggested for people in administration and management cadres, politicians, those facing debts or litigation problems, etc
 used by a person who is facing losses in business, financial problems, false court cases, false accusations, debt problems, obstacles in profession, etc.
for those appearing for competitive exams, debates, etc.
Baglamukhi Mantra also helps in warding off evil spirits and evil eye.
Why with MTI?
You will have a hassle free experience of Puja straight from the renowned temples without having to travel miles or stand in lines to your home.
Associated with a brand – India's first comprehensive religious and pilgrimage site.
All our Pandits are experienced and learned.
Personalised attention by all our staff from the day of booking till the Puja is done.
Delivery of Prasad at home. (On request – Chargeable)
Facebook
WhatsApp