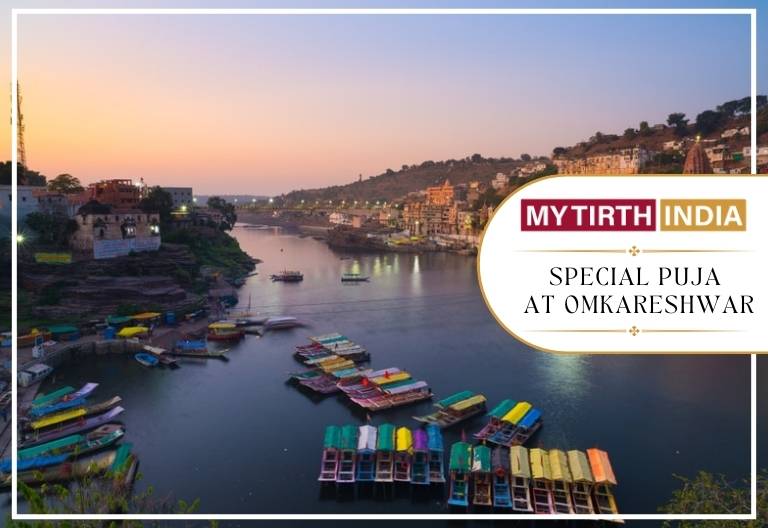 Omkareshwar
Omkareshwar Jyotirlinga is a Shiv Mandir on Omkar mountain an island in mid-Narmada, It is revered Hindu temple is the centre of extreme faith.It is on an island 
called Mandhata or Shivapuri in the Narmada river; the shape of the island is said to be like the Hindu ? symbol. The name Omkareshwar comes from the word "OM"
There is 12 Jyotirlinga in world and Omkareshwar is one of them.
On completion of pilgrimage, all the Hindus come here and offer the holy water. Only then their visit to other pilgrimage is considered to be complete.
Partheshwar Shivling Pujan - In Partheshwar Pujan, we worship 1008 parthiv shiv lings.
It is believed that Parthiv Shivling prayer (??????? ????) is equal to the fruitfulness of crores of worships and prayers.
It is said that even Shree Ram did Parthiv Shivling (??????? ???????) prayer before going for war against Ravana and conquering Lanka.
In order to be more powerful than Surya (????? ???) God of Justice (????? ?? ?????) Shanidev also did this Parthiv Shivling prayer to please Lord Shiva.
Narmada Pujan – Worshing Mother Narmada (Narmada River)
Why with MTI?
You will have a hassle free experience of Puja straight from the renowned temples without having to travel miles or stand in lines to your home.

Associated with a brand – India's first comprehensive religious and pilgrimage site.

All our Pandits are experienced and learned.

Personalised attention by all our staff from the day of booking till the Puja is done.

Delivery of Prasad at home. (On request – Chargeable)

Facebook
WhatsApp