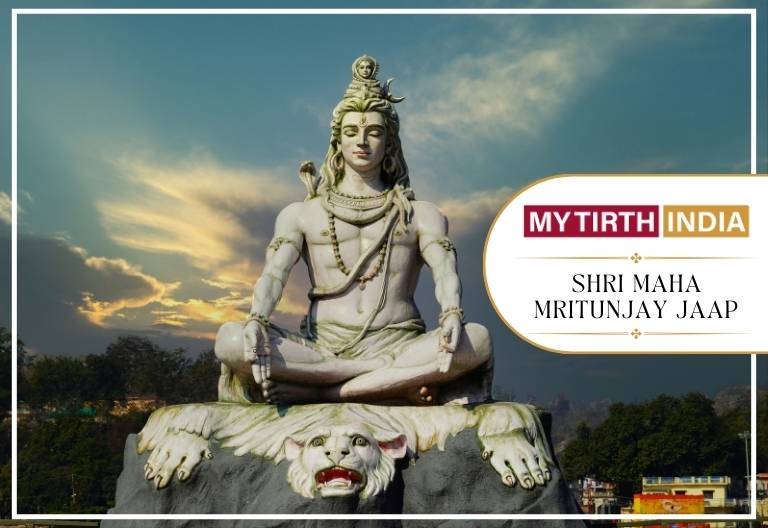 Shri Maha Mritunjay Jaap :
About - The Maha Mrityunjaya Jaap addresses Lord Shiva. It is a mix of three Hindi language words i.e. 'Maha', which suggests great, 'Mrityun' means death and 'Jaya' means victory, which is translated as victory over death. This mantra is additionally called the Rudra mantra, pertaining to the furious aspect of Shiva; the Tryambakam mantra, alluding to Shiva's three eyes; and it's sometimes referred to as the Mrita-Sanjivini mantra because it's a component of the "life-restoring" practice given to the primordial sage Sukracharya after he had completed an exhausting period of austerity.
History

According to a legend, Markandeya was the only one on the earth who knew this mantra. The Moon was once in trouble, when cursed by King Daksha. Markandeya gave the Mahamritryunjaya Mantra to Sati, Daksha's daughter, for the Moon. According to another version this is often the Bija mantra as revealed to Rishi Kahola that was given by Lord Shiva to sage Sukracharya, who taught it to Rishi Dadhichi, who gave it to King Kshuva, through whom it reached the Shiva Purana.

Purpose

It is said to be beneficial for mental, emotional and physical health. . It bestows longevity, wards off calamities and prevents untimely death. It also removes fears and heals holistically and is moksha mantra . This mantra is addressed to Shiva for warding off untimely death. It is also chanted while smearing Vibhuti over various parts of the Body and utilised in Japa or Homa (havan) to urge desired results. While its energy protects and guides the initiates a mantra re-links consciousness to its deeper and more abiding nature and repetition of the mantra constitutes Japa, the practice of which develops concentration that results in a change of awareness.
You can chant a mantra 'for your dear and near ones' when you focus your attention simultaneously on the mantra per se and on the person for whom the mantra is intended. It is prescribed to chant the Mahamrityunjaya Mantra 108 times. Many people chant the mantra on a Rudraksha rosary which consists of 108 beads that are wont to count the amount of chants of this powerful mantra.
Why with MTI?
You will have a hassle free experience of Puja straight from the renowned temples without having to travel miles or stand in lines to your home.
Associated with a brand – India's first comprehensive religious and pilgrimage site.
All our Pandits are experienced and learned.
Personalised attention by all our staff from the day of booking till the Puja is done.
Delivery of Prasad at home. (On request – Chargeable)
Facebook
WhatsApp