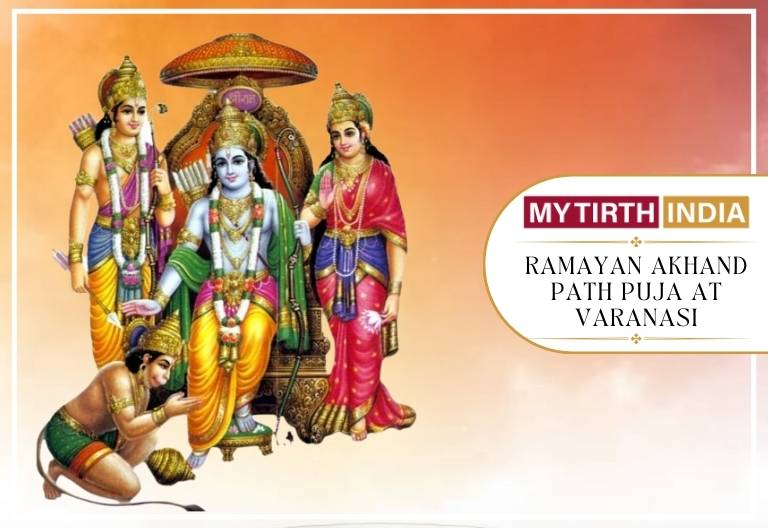 Ramayan Akhand Path Puja:
Rama (or Ramacandra) is the seventh avatar of the Hindu god Vishnu. ... Lord Rama, considered by many Hindus to be based on an historical figure, is perhaps the most virtuous hero from Hindu mythology and he, along with his wife Sita, are a picture of purity and marital devotion. In sculpture, Rama is represented as a standing figure, holding an arrow in his right hand and a bow in his left. His image in a shrine or temple is almost invariably attended by figures of his wife, Sita, his favourite half brother, Lakshmana, and Hanuman.
Hanuman is a Hindu god and divine vanara companion of the god Rama. He is generally depicted as a man with the face of a monkey and a long tail. Often described as the "son of Pawan", the Hindu god for wind, Hanuman is known for his extraordinary daring feats, strength and loyalty.
Shri Ramcharitmanas also well-known as Shri Ramayana is an epic written by great poet Tulsidas.Ramayan is the story about the life and times of Lord Rama and contains the teachings of Rama. Rama beautifully portrays the importance of family relations principles and that of how to conduct leadership and above all righteousness.
Purpose
According to the Hindus, a mere recital of this great Epic Ramayana is considered highly Auspicious and is enough effective to remove various obstacles. It is considered that the benefits of reciting this Epic are increased manifold if it is recited non-stop from starting to end without any break in between which takes time of approximately 24 hours. This recitation is known as "Akhand Ramayana" means "Complete / Full" (without any kind of break).
Key Insights :
• Performed for glorifying lord Ram.
• Helps in bringing peace and prosperity
• Listening this path brings out truth, courage and righteousness among the karta.
• Protects against any danger form evil forces.
• Brings success when starting a new business.
• Akhand Ramayan Path brings happiness and prosperity in the family.
Auspicious for other new beginnings like entering a new house (Griha Pravesh), Marriage ceremonies, Birth of a Child and so on.
• Induces truth, courage and righteousness amongst disciples.
• Provides moksha to soul and rids it from trails of re-birth.
• Prevents harm and danger from evil.
• Protects against ill health.
Duration:
This path will be carried out by 6 pandits for a total of 24 hours.
Why with MTI?
You will have a hassle free experience of Puja straight from the renowned temples without having to travel miles or stand in lines to your home.
Associated with a brand – India's first comprehensive religious and pilgrimage site.
All our Pandits are experienced and learned.
Personalised attention by all our staff from the day of booking till the Puja is done.
Delivery of Prasad at home. (On request – Chargeable)
Facebook
WhatsApp