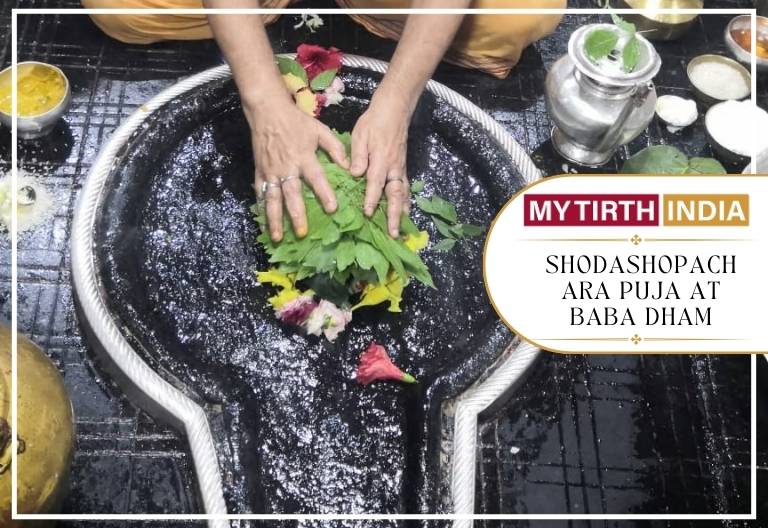 Are you leading a life without purpose or feel emptiness from within. Are you surrounded by negative energy and want to attain focus, intelligence and peace of mind, then book a traditional 16-step puja which is called the Shodashopachara Puja from Baba Baidyanath. Shodasha meaning 16, and Upachara meaning offering given with devotion.
 Objects and actions offered in puja to the divine, act as vessels of the devotee's faith and spiritual energy, which allows direct communications and interactions with the Divine. Over a lifetime, setting aside this time for worship every day helps the devotee to work towards remembering the Divine at all times and eventually to see the Divine in all things and beings around them.
 In this case, the same 16 steps are expanded or added to, and each step is more elaborately attended to by the devotee, often through the guidance of a priest. Each step is given more time so that more material offerings and forms of worship, like chanting of hymns or other acts of devotion, can be offered at the feet of the Divine.
The 16-step puja can also be performed over a longer period, sometimes hours together, for special occasions, festivals, and major events in life, such as rites of passage.

Benefits of Shodashopachara Puja at Baba Baidyanath

Internal physical power and strength to lead in life.

Divine blessings and grace.

Harmonious and peaceful life.

Intellectual development.

Positive Thinking and Emotional support.

Keeping negative energies at bay.
Why with MTI?
You will have a hassle free experience of Puja straight from the renowned temples without having to travel miles or stand in lines to your home.

Associated with a brand – India's first comprehensive religious and pilgrimage site.

All our Pandits are experienced and learned.

Personalized attention by all our staff from the day of booking till the Puja is done.

Delivery of Prasad at home. (On request – Chargeable)
Facebook
WhatsApp