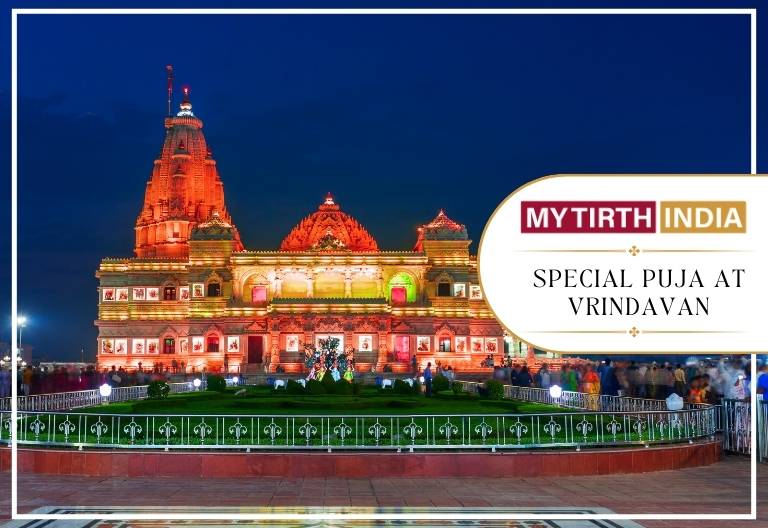 Vrindavan
Vrindavan is popularly known as the "town of temples" and the "Land of God"It is the place where Lord Krishna spent his childhood days
Vrindavan is a major pilgrimage centre for the Hindus, located on the banks of Yamuna River about 150 km to the south of Delhi. Vrindavan has been a big centre of learning and Krishna worship for a long time. With several temples all over the town, the Bankey Bihari temple is the best-known in the city.
Vrindavan is considered to be a holy place for Vaisnavism tradition of Hinduism. It is a centre of Krishna worship and the area includes places like Govardhana and Gokul that are associated with Krishna.
Daily Bhog Seva
Daily Puja
Samanya Daily Puja - 1 panditji – 40 mins
Vishesh Daily Puja - more time than Samanya Daily Puja and is recommended for fulfilling any special wish. Puja performed by 1 panditji – 01 hr
Ati Vishesh Daily Puja - 5 pandits – 1.5 hr
Nitya Seva
Nitya Seva also known as Ashtayam Sewa" refers to the daily service offered in the honor of Shri Radha vallabhji."Ashta-Sewa" meaning "Eight services" offered each day.
The ashtayaam service has been divided into six parts : Mangala (2) Shringar (3) Gwaal (4) Rajbhoga (5) Uthapan 4 Bhoga (7) Sandhya Aarati (8) Shayan.
Mangala : Mangala's time is early morning 4.30, Through mangala aarti and singing of ragas sung at early morning God is awakened by blowing conch shell. It is followed by bathing of God. Along with 'snanadi seva' that is done after mangala aart i there is anurag, khandit and daahi mantha bhava that is included in morning services. (2) Shringar : After mangala God is adorned and decorated. While doing Shringar there is singing of the verses. (3) Gwaal : Shringar is followed by 'Gwaal Jhanki'. Along with gaucharan the verses of makhan choree and vatsalya bhava are sung.
(4) Raajbhog : After Gwaal's (cowherd boys) pasturage food is offered to God. The verses related to offering bhoga to God are sung. After bhoga God takes rest at noon hours. (5) Utthapan : After the rest at afternoon God is again awakened at post meridian hours. There is the scene of gocharan. The ragas of 'madhyanha kaal' are sung during this service. (6) Bhoga : In Pushti sect, God is served like a baby. Just as we are eager to watch the activities of a child every moment similarly God is also served like a child with the same curiosity. Again there is the display of 'bhoga Jhanki'. Krishna roop, Gopidasha, Murali (flute) and Gopa bhava enriched verses are sung. (7) Sandhya Aarati (Evening Prayer) : After coming back from 'gocharan' there is the bhava of the arati of Shri Krishna by mother Yashoda. At this time there is the Jhanki of Godohan. This bhava is supported by the singing of ragas sung in the evening. (8) Shayan : This 'Jhanki' comes after the exhibit at the time of twilight. It includes the dinner of the lord. The verses of sanyog shringar of Nikunj bhavana are sung.
Pushpa Seva
It is an ancient tradition to celebrate the appearance of the Lord by beautifully bedecking temples and homes with flowers. The temples are practically covered with flowers from everywhere. The altar and the temple hall are especially decorated in the traditional Phul Bangla style. The beautifully decorated Deities amidst the verdant floral environment bring a very special joy to the devotees.
Dugdh Seva
After taking a bath, one should offer milk to Lord Shiva. It is believed that doing this, the problems related to livelihood, job or business gets eliminated.
Gau Seva (Cow Seva)
Gau Seva Parivar Samiti
Our mission is to care for stray, abandoned cows, bulls, retired oxen, and orphaned calves. We provide them hay, flour, fresh grass, clean water, medical attention and a place where they can recuperate from injuries and stay peacefully.
You can get associated with them and work with them and donate money or any other form of offering for betterment of Mother Cow.
Poshak Seva
An opportunity for you to contribute towards Poshak (dress) to the Deities in our temple.The colour and the dress will be of your choice that is chosen along with number of idols and the Poshak Seva offering will be done accordingly.
Chappan Bhog Seva
In this chadhava , we offer bhoga consisting of delicious and specially prepared 56 food items to lord Krishna. As an offering to the Lord, people put together a list of 56 food items, referred to as the Chappan Bhog. The word 'Chappan' translated to 56, and 'Bhog' means food.This offering is majorly done on Janmashtami or any other auspicious occasion.
A typical Chappan Bhog comprises makhan mishri, badam milk, mohanbhog, kheer, jeera ladoo, jalebi, rasgulla, rabri, malpua, moong dal halwa, mathri, chutney, murabba, saag, dahi, rice, dal, kadi, ghewar, chila, papad, pakoda, khichadi, brinjal sabji, lauki sabji, poori, tikkis, dried fruits, paan and so much more
Maha Prasad (Bhandara)
It is the food offered to the deity in the temple which is then shared and eaten by the masses. Sometimes this vegetarian offering will exclude the prohibited items such as garlic, onion, roots, etc. The prasadam is commonly prepared is to place the food in offering before an image or deity of the spiritual figure to be honored, sometimes on a plate or serving vessel reserved only for spiritual purposes; and only then, after some time is allowed to pass, does the food become holy prasadam for further distribution.
It is believed that by serving bhandara , it is not only feeding the poor but providing them with Krishna's mercy as well and is considered an act of grace.
Daridra Narayann Seva
Service to the poor is equivalent in importance and piety to service to God. Vivekananda then referred to feeding the poor as "Narayana Seva", and preached for "Daridra Narayana Seva", meaning service to the poor as service to Narayana. "Narayanam Devam adevam isam - Lord Narayana, the Supreme controller and the ultimate Soul of all existence, venerated as the Supreme Being in Vaishnavism.
Narayana Seva is one of the best Seva for feeding the poor and hungry people, who have never had in their lives the joy of eating a full meal. This is not mere charity. It is offering gratitude to God for giving us chance to be of help to one's fellow men, who are all God's forms.
Often people arrange for this seva on festivals,birthdays,marriages or any other important event of one's life.
Akhand Dipak
Akhand Deep is good for creating calm and divine atmosphere in your pooja room. Our pandits help you to light this deep/lamp infront of the lord to seek it's blessings.Lighting this is considered very holy and auspicious.
Gulab Jal Seva
We help you with the gulab jal (rose water) to be offered to the lord as it is considered very sacred and the lord gets happy with this seva being done.
KesarYukt Chandan se Chadawa
In this type of offering,kesar and chandan (saffron and sandalwood) is smeared on the idol during the Puja to seek blessings.It is believed that doing this keeps the idol cool and pure.
Pratah Kaal Uttpan Bhog (Maakhan-Mishri)
Maakhan-Mishri is offered to Lord Krishna and Radha during the Puja to seek their blessings. The Prasad is made of butter and mishri (crystalized sugar lumps) which is churned well with some dry fruits added.This is the favourite food of Lord Krishna and offering this is considered highly auspicious.
Facebook
WhatsApp